The LVM sensor series (LVM = Laser Valve Motion) has been purposedly developed for the automotive sector, for the non-contact measurement of the motion of valves of internal combustion engines, in test-benches that include an electric motor to drive the camshaft and generate valve lift.
The basic version features one or more zero-delay laser triangulation sensors, which supply real-time displacement of the valves with high resolution, in the form of displacement, velocity and acceleration signal outputs. The zero-delay feature greatly help testers in the acquisition/interpretation of the valve lift, without the need to continuously synchronize the delay with respect to the camshaft/crankshaft encoder for varying rotation regimes.
An optional Laser Doppler Vibrometer based on SMI technology can be added, to allow automatic and real-time subtraction of the unwanted (but always present in practical experiments) vibrations of the engine head. The VSM system can be controlled by a PC using a dedicated software that communicates via Ethernet.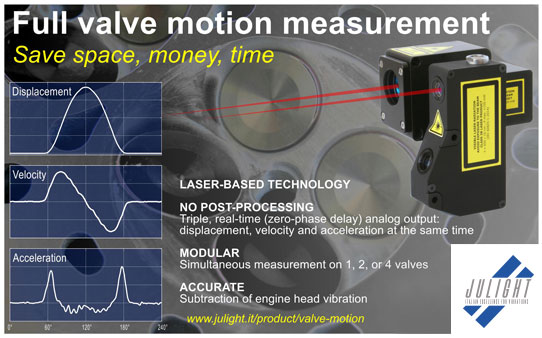 JULIGHT SRL
Headquarter:
Viale dell'Industria, 1
I-27020 TRIVOLZIO (PV) - ITALY
Registered Office:
Corso Cavour, 9
I-27100 PAVIA - ITALY
VAT: IT02434680183

:
info@julight.it